TO WHAT EXTENT ARE SMALL-HOLDER FARMERS BEING PROTECTED AGAINST WEATHER AND CLIMATE RELATED SHOCKS?
ELEAF, Agro Consortium, Agriculture Reinsurance Company (ARC) and OKO Finance have partnered under the InsuResilience Fund grant with the purpose of contributing to the adaptation of climate change by improving access to and the use of climate risk insurance products; increasing resilience of the poor and vulnerable people (according to InsuResilience target group) to extreme weather events in Uganda; providing climate risk insurance product development related activities and services for the benefit of Uganda. The primary target group is small-scale farmers across Uganda who produce a variety of food and cash crops and who are at risk of adverse climate conditions, whereas the secondary target focuses on distribution partners and aggregators who are at Meso level. These drive outreach and sales through key coverage definition and indemnification done at the individual farmer's level. This project aims to build on the successful implementation of index insurance products realised since 2015 whose success is attributed to the combination of; high quality and reliable satellite-based products, local expertise to create effective insurance products for Ugandan farmers, the agricultural insurance government subsidy, and the capacity to bring these products to markets in an increasingly efficient and transparent way. The partnership between ELEAF, AIC, ARC, OKO Financing is uniquely positioned and brings together all the skills and capacity to realise the target audience increase in insurance uptake. The project will contribute to the market's development in various ways, firstly, by developing a robust index product that can accommodate the needs of small scale farmers and improving on risk coverage, through product research and design; secondly by increasing outreach activities with distributors and aggregators along the agricultural value chain; thirdly by raising awareness and educating the end-beneficiaries in order to enable understanding of the benefits of insurance and build up trust.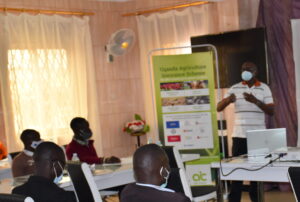 As one of the Non Developed Countries, Uganda's greenhouse emissions are among the lowest in the world, but it's vulnerability to the impacts of climate change are immediate and high. Uganda's first priority with regard to NDC's is that of adaptation and second mitigation. By using satellite data, not only can we assess the climate risk of the different locations in Uganda, but through near real-time index monitoring of the entire country, we also provide near-real time information on the ongoing crop season and how the conditions compare to the expected ones. The project's activities and efforts will contribute to; a) increasing farmers' income in years with adverse weather events and b) adapting and building resilience to climate change. Index Insurance products are part of the Ugandan Government's Agricultural Insurance Scheme (UAIS). All current products offered by the Agro Consortium are accepted by UAIS and the Insurance Regulatory Authority as eligible for premium subsidy. Improved and new products to be developed under the strategy and activities presented here will be offered as part of UAIS and also be subsidized.